by Heather R. Darsie
In the British Library, there is a collection of pharmaceutical recipes created by Henry VIII and four of his physicians. Henry and his doctors seemed to prefer herbal remedies for a lot of the recipes. It is believed that the manuscript was compiled between late 1540 and 1545. Important to dating the manuscript, there is a recipe for a plaster to help Anna of Cleves feel better. It is called, in modernised English, "A Plaster for my Lady Anne of Cleves to Mollify, and Resolve, Comfort and Cease Pain, of Cold and Windy Causes".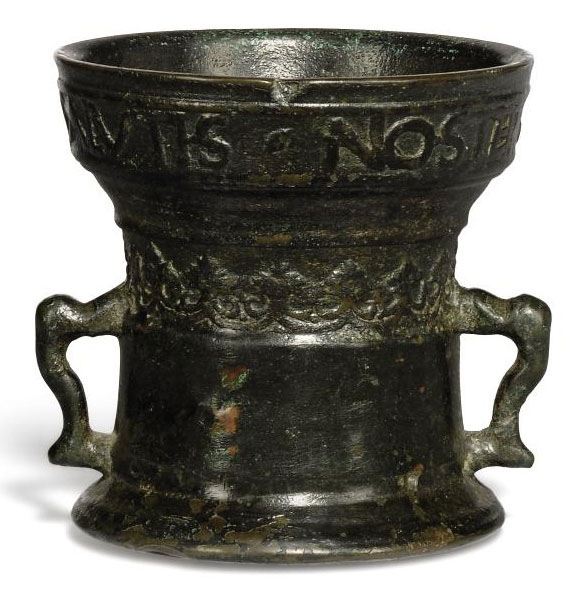 Tudor-era bronze mortar, listed on Christie's, link below
Anna fell ill often enough in the winter months, or at least used illness as an excuse to be away from court. In the winter of 1541 to 1542, Anna was taken quite ill. By December 1541, Henry's fifth wife Katheryn Howard was taken into custody back in November, and Parliament was moving swiftly against the poor girl. With Katheryn's downfall, it was now possible for either the annulment of Anna's marriage to be undone, or for Henry to simply remarry Anna.
Interest in renewing the Anglo-Cleves alliance was high for Anna's brother Duke Wilhelm. Wilhelm was still slowly heading toward war with Holy Roman Emperor Charles V, and could use all the might he could muster. Having England back on the Cleves side would help bolster Wilhelm's forces, and perhaps dishearten the stretched-thin Charles V.
A version of Henry VIII in 1540 by Hans Holbein the Younger, Galleria Nazionale d'Arte Antica
Rumors abounded in early 1542 that Henry would take back Anna. Ambassadors returned to England from Cleves, bearing even more evidence that Henry and Anna's prior and any subsequent marriage were free from any impediment. It could be, though further research is certainly needed, that it was around this time that Henry directed his physicians to create the plaster for Anna. If so, this could have further fueled the rumors that Henry and Anna would reunite. Ultimately, they did not, and Henry married Catherine Parr in the midst of the Cleves War.
The plaster itself would have been very expensive to make, perhaps another marker of the care Henry had for Anna after their marriage fell apart for political reasons. The recipe called for, in part, chamomile flowers, chamomile leaves, and myrrh. The recipe does not say how to apply the plaster, ie, directly on the body or onto a cloth to for Anna to inhale.
Hopefully Henry's kindness, if not the plaster itself, soothed Anna when she was ill.
Love learning about the Early Modern period? Are you interested in Tudor history or Women's history? Then check out my book, Anna, Duchess of Cleves: The King's 'Beloved Sister', a new biography about Anna of Cleves told from the German perspective!
You Might Also Like
Sources & Suggested Reading
Darsie, Heather R. Anna, Duchess of Cleves: The King's 'Beloved Sister'. Stroud: Amberley Publishing (2019).
Sloane MS 1047, f.30v, held by the British Library. http://www.bl.uk/manuscripts/Viewer.aspx?ref=sloane_ms_1047_fs001r#